Following in the line of jello shots, our friend Sharone pointed me to this tutorial on how to create vodka-infused gummy bears.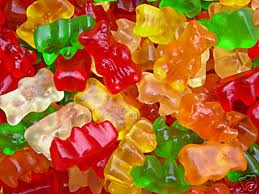 It's pretty straight forward: soak gummy bears in vodka for five days stirring occasionally, add a bit of concentrated juice and water to cut the vodka taste, let sit and enjoy.
But what is it? A cocktail or a candy?
Do you think it'd be worth trying these with our favorite spirit gin? Then perhaps we might not need the fruit juice to cut the taste. Gin, after all, is what happens if you distill a plain spirit, like vodka, with yummy herbs. Mmmmm….
Oh what will they think of next in their quest to make alcohol palatable to those who don't like it?