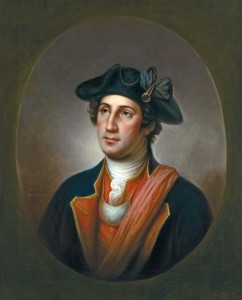 It is said that when our invaluable ally the Marquis de la Fayette visited General George Washington at his estate in Mount Vernon, Washington pleased him by serving Mint Juleps — and let's be honest, impressing a French aristocrat isn't a small thing. Washington also was known throughout the war to equip his soldiers  with several helpings of grog every night, and he insisted on this provision as a crucial military necessity. He also kept an ongoing brewery making beer at his estate. In addition, when his friend and ally Alexander Hamilton was facing the greatest distress of his public career, Washington showed his solidarity by sending him a solid silver wine cooler, which the late Ms. Hamilton was proud to show guests long after her husband's untimely passing. Washington was, in short, pretty good all around. That's why they put him on the $1 bill and the nickel.
So, here are our top three drinks associated with the esteemed General:
1. the Mint Julep — this is a classy drink
2. Grog — rum and milk are a pretty agreeable combo
3. Chilled wine — it's better than warm wine
Salut!