Sarah joined me for lady's night last Thursday armed with two fresh grapefruits and a desire for a cocktail.
You see, we had found this recipe for a cardamom rose cocktail that we had wanted to try. Lacking cardamom, we were left to our own devices.
I had a bunch of fresh basil I had picked up from the farmer's market last weekend. Remembering how wonderful the Basil Gimlet had been and my quest to find basil a role in every new cocktail I created, I had a splash of inspiration.
I began by muddling half a teaspoon of sugar, two fresh basil leaves and a splash of fresh-squeezed grapefruit juice in a high ball glass. Muddle muddle muddle. The grapefruit juice began to take on a greenish color; I knew we were on our way.
We added three ice cubes to each glass, an ounce and a half of Tanquery gin, and topped the two cocktails off with the remaining juice of the two grapefruits. Gave it a stir, and pow!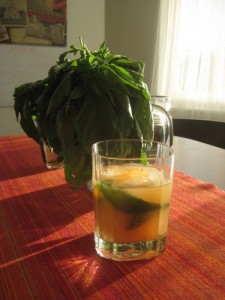 A cocktail creation I was proud to share. Slightly spicy, not too sweet and all around delicious. Light and refreshing, this is the perfect summer cocktail!
The Recipe (makes one cocktail)
a half teaspoon of sugar
two fresh basil leaves
the juice of one fresh grapefruit
1 1/2 ounce Tanquerey Gin
Muddle up a dash of the fresh grapefruit juice, the two basil leaves and the sugar in the bottom of a high ball glass until the grapefruit juice takes on the green of the basil. Add a few ice cubes, the gin, and top with the remaining grapefruit juice. Stir and enjoy!
If you like your cocktails sweeter, add a dash of simple syrup to the completed drink and give it another stir.
{ 0 comments }