Here in the Bay Area, a drizzly winter has abruptly given way to suffocating heat. After a long, stuffy day at work, or in the car, there is no better refreshment than a crisp Campari and soda (except perhaps a chilled Pilsner — but that isn't a cocktail):
1 half glass Campari
Top off with club soda
Serve on ice with a healthy slice of orange
Campari is a bitter Italian aperitif, flavored with orange peel, that tends to divide people sharply: aficionados sing its praises, others denounce it emotionally. In no country has this so far led to outright civil war, but this result is a matter of luck and not a reflection of the depths of people's feelings on the subject. My own reaction upon first tasting Campari was equal parts surprise and disgust, followed by a sense of futility about how to describe the flavor (like cigarette butts? like rusty metal? like poisonous insects?). I then determined to use the stuff as a hilarious punishment for unsuspecting friends and guests. But as the days went by afterward, I found that the taste was stuck in my head, much like a catchy jingle. I had to give it another chance, if not for pleasure than for the novelty of the flavor. Before long, I was hooked. I insisted on introducing Campari to my girlfriend, and she went through the same process of bitter resistance and ultimate surrender. So to the novice who is not yet broken in, I must advise: give it time.
Cheers!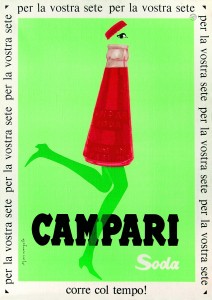 { 2 comments }