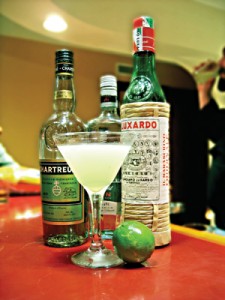 The Last Word is an interesting example of a cocktail that had apparently only regional popularity following its original debut during Prohibition, but that has become a favorite internationally in recent years.
This drink was reportedly introduced by the bartenders at the Detroit Athletic Club in the early 1920s. Two of its four ingredients are "luxury" liqueurs that are in the present day relatively hard to find and relatively expensive. I don't know whether all three of these characteristics held in those days, but it's probably a fair bet that Detroit's proximity to Canada and the Great Lakes, as well as its prosperity during its happy years as a center of car production, had something to do with the fact that an illegal saloon would have access to these ingredients. It's doubtful that Chartreuse or Maraschino Liqueur would have been available or affordable in much of the country, explaining the drink's limited popularity at that time.
In any case, it's a pleasing concoction. Nobody I've served it to has had anything but good things to say about it.
The Last Word:
1 part gin
1 part green Chartreuse
1 part Maraschino Liqueur
1 part fresh lime juice
Shake on ice, serve straight up. No garnish needed. How big a "part" is can depend on your tolerance and goals for the evening (some recipes say 1/2 oz. each, others 3/4 oz. each, others don't specify).
Cheers!
{ 0 comments }