Suzanne invited Will, Gayle and Anna and I over to taste one of our favorite drinks, the French 75, with three different sparkling wines. Made of gin, sugar, lemon juice and sparkling wine, the French 75 falls into the category of cocktails I like to call "Drunk in a Glass."
Will and I celebrated this past New Years with a French 75. That same fateful night, Suzanne was served a heinous rendition that was topped with soda water to save on sparkling wine.  She could hardly drink it, but prefers that the guilty bar remain anonymous.
To rid her memory of that bitter taste, she picked up three different sparkling wines from Solano Cellars, an awesome wine store and bistro in Albany. Kirsten from Solano Cellars helped her pick the perfect bottles for our French 75 tasting.
I keep calling it "sparkling wine" instead of the more familiar "champagne" because much of what we all call champagne is not actually champagne; to be champagne the grapes must be harvested from the Champagne region of France.  It's a lot like Tupperware brand food storage containers; we call anything that's made of plastic and a container Tupperware, but most of the time we are not referring to the brand with the lifetime guarantee.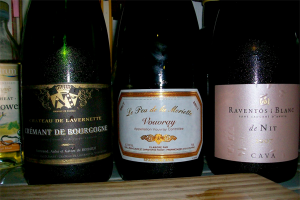 The first of our sparkling wines was a Crémant de Bourgogne made by Chateau de Lavernette (pictured on the left above). This one is the closest to champagne in taste and style for the value (all three were under $25).
Next we had a sparkling Vouvray made by La Pea de la Moriette. Composed of 100% chenin blanc grape, this sparkling wine resembles a cava or a prosecco with a hunt of light pear.  Mmmm. (Pictured in the middle above.)
Lastly, "for shits and giggles," we had a cava made by Raventos i Blanc, a Spanish sparkling pink wine with raspberry notes which Kirsten from Solano Cellars suspected would be the most fun in a French 75.
We used fresh lemon and New Amsterdam gin for the French 75s.  Gayle, Suzanne and I took the opportunity to taste the New Amsterdam gin by itself.  Suzanne calls New Amsterdam "a sipping gin…not as aggressively herby as Hendriks…more flowery." Gayle thought it was "nice and fruity." I noted that it fell on my tongue softly, like a pillow.
We decided that the only way to do this tasting justice was to taste each champagne (err…sparking wine) separately, and then taste them all as a French 75.
We started with the Vouvray. Anna liked the "soft, pillowy nose"; Gayle found it mouthwatering, Suzanne citrusy, Will crisp and full-bodied, and I pointed out that it would be a shame to mix it with gin.
Next up the Crémant de Bourgogne. After a sip of this, Anna resolved to drink more sparkling wine.  Will noted a much stronger smell than the Vouvray and a slightly sour taste.  Anna disagreed. We all agreed it was more dry then the first one, and Gayle found it tangier.
Last but not least, we tasted the cava, which had a pleasing pink hue.  I liked its round flavor and the complexity on the tongue.  Suzanne noticed a little bit of raspberry, and Gayle thought it had way more bite.
Gayle, Anna, and Will all thought that the Vouvray won as best sparkling wine hands down; Suzanne liked them all, and I felt torn between the Vouvray and the Crémant de Bourgogne.
It was time to add the gin, lemon juice and a bit of sugar and try them all as French 75s.  Suzanne suggested that we do it blind, but Will pointed out that one of the sparkling wines was pink and we'd be able to tell.  No one suggested the obvious solution of blindfolds.  Maybe next time.
First we tried the French 75 made with the Vouvray.  A chorus of "yum" and "mmmm" rang out. I noticed that it tasted like lemonade; Gayle agreed, "the lemon overwhelms…not necessarily in a bad way though." Suzanne noticed that it didn't taste like alcohol and pointed out that that made it a VERY dangerous drink. Will noticed that it was very sweet and blamed the New Amsterdam gin.
Next we tried the Crémant de Bourgogne.  Suzanne liked that it was tangier than the first one.  Both she and Gayle liked it better than the first one.  Gayle thought it was awesome and delicious.  High praise! Anna sipped silently with a look of peaceful bliss on her face.
Lastly we had the French 75 made with the cava.  Will described this version as "insidious."  I thought it was the best balanced of them all and declared it my favorite.  Suzanne noticed that the raspberry flavor really popped in the French 75–more so, even, then when we tried it by itself.  Gayle felt like the flavors were dissonant, and did not mix well.  Suzanne agreed that there was a lot going on, but that they make it work à  la Tim Gunn.
Our verdict?  Tastings are fun.  Champagne is delicious, even if it's not from the Champange region of France.  French 75s are awesome, and trying them out with different sparkling wines is a great activity.  As with wine, the best is ultimately a matter of taste.  Luckily for us, we all liked different sparkling wines in differing amounts and had no trouble polishing off the bottles.