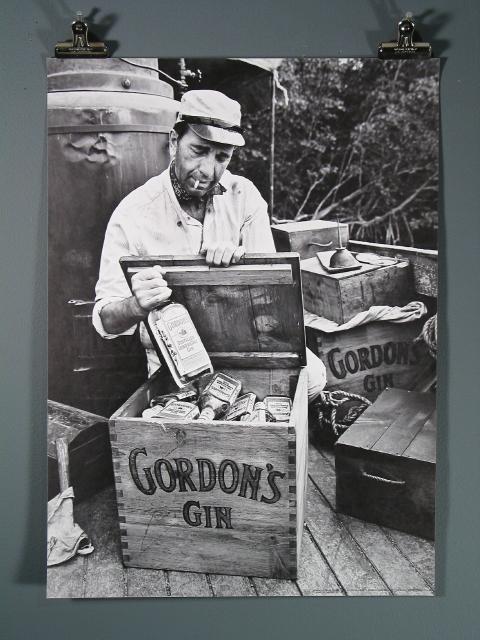 We made a number of disturbing discoveries while traveling abroad. One was that people in Europe take their Campari neat or else mixed with tonic water. Another is that young people, even those of the greatest refinement and most unimpeachable grooming, can be relied upon to purloin all the cans of tonic water from the refrigerator, and to drink them as if they were soda. Consequently, we found ourselves more than once in possession of gin but lacking any mixer for it.
We remembered that in the classic film The African Queen, Humphrey Bogart's character takes his Gordon's gin without tonic. He prefers to have it mixed with African river water. Katharine Hepburn's character doesn't like this one bit, but the sentiment doesn't seem to be on account of the water.
Anyhow, we found that a half-and-half mix of gin and water, on ice, was reasonably refreshing. That is not to say that we've repeated the experiment since the scarcity of tonic water has abated.
The Gin and Water:
1 1/2 oz. gin
1 1/2 water
Serve on ice, with a lime wedge
Salut!